Massage in Simpsonville
Whether you have sore or aching muscles and are looking for relief, or wish to transport yourself to a tranquil state, our massage services can help you achieve your goals. At Arya Place, you'll enjoy a generous dose of posh pampering that will leave you feeling blissfully relaxed and rejuvenated.
New Couples Massage Suite
The Spa at Arya Place invites you and that special someone to step away from the chaos of everyday life and celebrate your love. We invite you to transform your body, mind and spirit to a state of absolute serenity, tranquility and balance. Upon arrival, you will change into plush, comfortable robes and slippers and be ushered to our Love Bird Suite. The two of you will, first, receive tailored massages that include various techniques including aromatherapy that will leave you in a state of absolute bliss. Once the massage is complete, you will be guided to our Relaxation Room where a warm fire, french lavender-infused neck cozy, champagne, and chocolate-covered strawberries wait for you. Before you depart, you may choose to take a seat in our infrared sauna to detox and further your cleansing experience by utilizing our rainfall shower. For our evening guests, end your relaxing getaway by watching the sunset over our magnificent tree line. Check out our Couples Spa Package details and pricing.
Enjoy Our Relaxation Retreat, Sauna Treatment, and Rain Shower
We ask you to arrive 15 minutes early if you'd like to enjoy the relaxation retreat where you can escape the hustle and bustle of daily life. You'll be escorted to your locker where you'll find a plush robe and slippers. You can await your service while sipping tea, coffee, or fruit-infused water and enjoy some light snacks. After your relaxing spa treatment, you may choose to use the sauna for its healing benefits and end your spa day in the luxurious rain shower.
The following are our massage offerings:
Swedish
This type of massage is ideal for those coming in for stress reduction. Soft and gentle strokes are applied to the muscles of the body to promote rest and relaxation and increase circulation and calm the nervous system.
Deep Tissue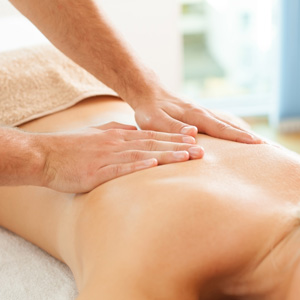 As the most frequently requested type of massage at the spa, deep tissue is more specific. The strokes and technique used are intended to relieve muscular discomfort in a certain area where there is discomfort (e.g., shoulders or low back).
One of the most significant benefits of this massage is that it helps increase motion, increase blood flow, reduce knots and trigger points and separates out muscle layers. It also still provides the relaxation effects of a Swedish massage. Deep tissue massage is ideal for targeting muscles that are fatigued and chronically tight, as well as for breaking up muscle adhesions or scar tissue.
Hot Stone (Additional $30)
This fantastic spa treatment combines warm stones as well as therapeutic strokes and techniques. The massage therapist will use richly scented aromatherapy oil with continuous heat being delivered by the stones. Muscular tightness and fatigue disappear with a hot stone massage.
Prenatal Massage
For pregnant women, massage alleviates tension or muscle aches associated with pregnancy. It helps to support a woman's pelvis, low back, hips and shoulders and decreases foot and knee swelling. Prenatal massage also can help with back, leg and foot pain that result from changes to the body. Your baby benefits too from the relaxation!
Reflexology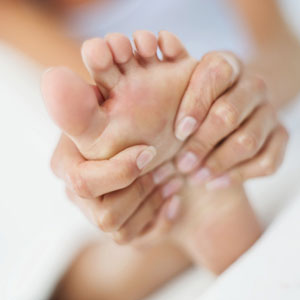 This type of massage is based on the theory that reflex zones and acupressure points in the hands and feet are linked to every organ, tissue, and gland throughout the body. This massage promotes self-healing by hitting those reflex points and aligning the energy frequency of the body to promote self-healing.
Couple's Massage
Could you and your spouse or significant other enjoy some rest and relaxation? With a couple's massage, you can choose from Swedish, deep tissue or hot stone massage. A couple's massage fosters reconnection and relaxation. Following your massage, you're welcome to go into the relaxation retreat and the sauna to extend your bliss and enjoy chocolate covered strawberries and champagne.
Lymphatic Drainage Massage
This massage is a specific treatment that uses light pressure to assist and guide the waste fluid from the lymph out of the body to help the body cleanse. It's intended to encourage the natural drainage of the lymph from the tissues and foster the healing process so that the body can function optimally.
Discover the relaxing and therapeutic effects of massage. Book a session today!
Massage Therapy Simpsonville | (864) 962-3116